Affordable services are one of the many reasons our clients keep coming back to Hillside. Others tell us it's the compassionate care their pets receive. In addition, we're conveniently located near SR 32, just minutes from Eastgate in Clermont County, and just across the way from the many Batavia businesses at Bauer Road. Here when you need us for your pet's routine wellness care, we can also provide hospitalization services when your pet is sick or injured. In addition, our doctors perform surgery every day of the week, including routine spaying and neutering, as well as more advanced procedures when necessary. Open six days a week for your convenience, we're sure to find an appointment time to fit into your busy schedule.
Hillside's staff includes two veterinarians, four licensed veterinary technicians, two assistants, and four customer service representatives and a practice manager. The mission statement of "Friendly, full-service veterinary care for your dog or cat" means that we strive to stay progressive and provide comprehensive medical and surgical services, while remaining affordable and treating every client like family. We understand that your pets are part of your family. Our doctors and staff are all pet owners, too. So, we'll treat your dog or cat like one of our own, which makes you part of our family. Just how it should be.
Our new, state-of-the-art facility was designed with the ultimate in comfort and care in mind. For both you and your pet.
Updated services include: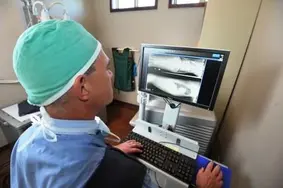 Advanced Dental Care
Digital X-ray and Dental X-ray
Soft-tissue and Orthopedic Surgery
Improved Anesthesia Monitoring
Enhanced Wellness Care
Expanded Computerized Records
We offer:
General Services
Boarding
Pets are monitored and Dogs are walked outside
Full Line of High Quality Dietary Products
Hill's Science Diets
Hill's Prescription Diets
Food purchases
Appointment scheduling
Medical Bathing
Nail trims
Flea Control
Prescription pick-up (previously called in only)
Medical & Hospital Services
Comprehensive Laboratory Services
Comprehensive Radiological Services
ECG
Comprehensive Endoscopic Services
Daytime Emergency Medicine and Intensive Care
Diabetes Treatment and Monitoring
Inpatient Hospitalization
Treatment and Monitoring
IV Fluid Therapy
Isolation Unit

Outpatient Services by Appointment
Wellness Exams and Preventive Health Care
Disease Prevention and Vaccination
Parasite Treatment and Control
Pediatric and Senior Care
Allergy Testing and Treatment
Pet Behavior Counseling
Microchip Identification
Surgical Services
Professional Spay and Neuter
General Soft-tissue Surgery
General Orthopedic Surgery
Fracture Repair and Bone-Plating
Cruciate Ligament Repair
Patellar Stabilization
Electrosurgery
State-of-the-art Anesthesia and Monitoring
Dental Cleaning and Prophylaxis
Extractions and Oral Surgery
Hillside Small Animal Hospital offers full vaccinations and regularly scheduled checkups for your pets. We believe in a preventative approach for your animal's health, to insure that they remain healthy.
Give your pet the gift of great health, call Hillside Small Animal Hospital and schedule an appointment today.