Staff
Dr. Tim Fouts
A native of Anderson Township, Ohio, I chose to go west after veterinary school to do an internship in small animal medicine and surgery at the West Los Angeles Veterinary Medical Group. It was there I cared for pets owned by such celebrities as Joan Rivers, Sheena Easton, Greg Louganis, Ice-T, Joanna Cassidy, Robert Culp, Eva Gabor, Shelly Hack, Aaron Spelling (and his daughter, Tori) to name a few. From there I went to a busy referral practice in Monrovia, California, located in suburban L.A. County, where I gained extensive experience in soft tissue and orthopedic surgery, working for six years under the late Dr. Raymond Weitkamp, an accomplished veterinary surgeon. After meeting and marrying my wife Lynn, a California native, I was able to convince her that Ohio offered a friendlier, smog-free way of life. We relocated to Clermont County, Ohio and opened Hillside Small Animal Hospital in 1996. We now live in Loveland with our two sons, a cat named "Boo", our dog "Morgan", and our newest addition from the Adore-A-Bull Rescue "Patch". Aside from work as a veterinarian and practice-owner, I draw the most satisfaction in life from being a father. I am also an avid golfer as is my wife. Now that our boys are old enough to swing a club, on any given sunny afternoon, you might find the whole Fouts family out on the links!
---
Dr. Emily Hopping
My name is Dr. Emily Hopping and I am a 2003 graduate of The Ohio State University College of Veterinary Medicine. Upon graduation, I practiced at a small animal clinic in Dayton. My husband and I decided to move to Washington in 2004 to enjoy the great outdoors before having a family. I practiced at a busy, multi-doctor small animal clinic in Anacortes, Washington for 3 years. We moved to the Cincinnati area in the fall of 2007 to be near family after the birth of our first son in January 2007. I joined Hillside Small Animal Hospital in November 2007 as a part-time associate. My specific interests include ophthalmology and dentistry. I have enjoyed the flexibility of working part-time while still being able to be a mom. When I'm not working I can be found enjoying the outdoors at our area parks with my family. I reside in Bethel with my husband, Kelly, two sons, dog "Hanson" (pictured here with me) and a cat, "Samish".
---
Lynn Fouts
My name is Lynn Fouts and I am the practice manager for Hillside Small Animal Hospital, LLC. I grew up in Arcadia, CA, which is just east of Los Angeles. I graduated with my B.S. in Management in 1995 from California State Polytechnic University in Pomona, CA. I met my husband, Dr. Timothy Fouts, in 1991 working at a very busy small animal practice in Monrovia, CA. We married in 1995 and moved to the Cincinnati area in 1996. We opened Hillside Small Animal Hospital that fall. I am blessed with two boys who keep me very busy and make life so full and fun. Our furry family includes our Shepherd mix, "Morgan", pit bull pup "Patch" (pictured with me), and our cat "Boo". When I'm not working, you may find me out on the golf course. I thoroughly enjoy the peace and serenity I feel on the golf course playing with my friends every week in my league. I am also a certified Jazzercise instructor. I started teaching in January 2007, and love the way Jazzercise makes me feel. It keeps me fit and is a wonderful stress outlet.
---
LeAnne Young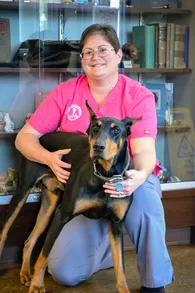 My name is LeAnne Young. I have been a registered veterinary technician (RVT) at Hillside Small Animal Hospital since February 2007. Previous to working for Dr. Fouts, I had seven years' experience at a veterinary hospital in Lebanon. In addition to my time in animal hospitals, I have also volunteered at CircleTail, a local assistance dog training organization that is also involved in some canine rescue efforts. My husband and I reside in Lynchburg with our many dogs and cats. Pictured with me is "Gage".
---
Michelle Baker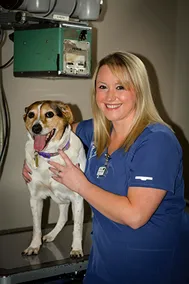 My name is Michelle Baker, and I'm a registered veterinary technician at Hillside. I've been here for quite some time! I started out as an assistant in May of 2006 and obtained my Vet Tech license in 2008. I went to UC Raymond Walters, (UC Blue Ash) for my degree. I chose this career because animals have always been a big part of my life. I grew up on a farm with cows, chickens, and pigs. I always had a lot of cats, dogs, and even rabbits. Animals are definitely one of my passions. In my free time I love to sing! Whether it be singing karaoke somewhere, in church, for weddings, I love it! I've been married since June 2012 and my husband Brian and I have 1 son named Jett. He's 6 years old and he's a total blast and joy in our lives. We have 2 cats and 2 dogs. Greta and Tyson are the kitties, Mona and Cora are the dogs. They are mutts, but hey, that's the best kind of dog! ;)
---
Stephanie Houk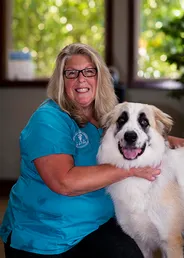 My name is Stephanie Houk. I have been working at Hillside Small Animal Hospital as a receptionist since May,2002. I really enjoy working here at Hillside because of the staff and our clients. My husband Kenny and I have a dog, "Dexter" (pictured here with me) and a cat, "Gibbs". I also have a daughter named Alexandra.
---
Amanda Picou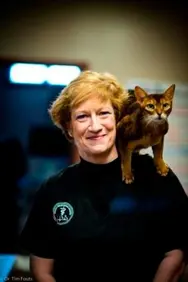 I'm Amanda and this is my cat Beebles. I've worked at Hillside Small Animal Hospital for 2 years. I really enjoy working here and meeting pets and their owners. I know it sounds cliché, but I truly learn something new every day. When I'm not here, I spend time volunteering with the Ohio Alley Cat Resource (OAR) or during the summer I enjoy working in the garden.
---
Reda Cresap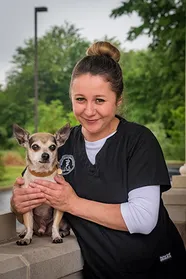 Hello, my name is Reda Cresap I am the newest edition to the customer service team at Hillside Small Animal Hospital. I am a mother of a fantastic daughter who also shares my great affinity for all things in the animal kingdom. Our fur family is vast both cats and dogs and stretches over two decades. I am so impressed with and happy to be working with such a wonderful team of dedicated professionals who share my love for animals. I look forward to learning everything I can from each one of them and meeting all of our wonderful clients and their fur families. In my free time my list of hobbies include cooking, huge movie buff, and an inherited love of home renovation from my father. We spend a lot of time outdoors whether it be hiking or just sitting by the fire admiring our garden in our own backyard with our dogs by our side.
---
Avery Danislavs
My name is Avery Danislavs and I am a Veterinary Assistant. I have 2 dogs, a yellow lab named Sunny (pictured above) and a black lab named Kody. I am currently a senior at West Clermont High School and will be attending the University of Cincinnati in the fall majoring in Biological Sciences. In the future I hope to pursue a career as a Veterinarian specializing in exotic animals. I am so grateful for the opportunity given to me here at Hillside. I have only worked here for a short period of time but I have already learned so much from my fellow assistants, techs and vets.
---
Nicole Steinbrunner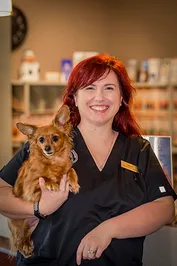 Hi, my name is Nicole Steinbrunner. I live in Williamsburg with my husband, Joe, and our furbaby Berni. My love of animals began at a young age when I wanted to care for every stray dog or cat that crossed my path. My family rescued our first pet when I was around 5 yrs old and I've always had at least on pet in my home ever since! I found Hillside Small Animal Hospital in 2015 through a friend of the family, they treated us with such warmth and compassion over the years that in February of 2020 I jumped at the chance to join the team. I am incredibly excited to be part of the HSAH family and look forward to finding out where this new adventure leads! In my spare time I can often be found reading, playing with my dog, cooking, or spending time with my family.
---
Carla Evans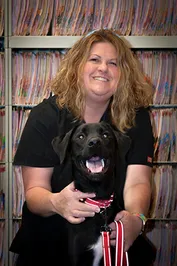 Hi, my name is Carla Evans and I'm a CSR at Hillside Small Animal Hospital. My husband, Ed, and I live in Fayetteville with our dogs Pandora and Loki. I'm a volunteer at the League for Animal Welfare in Batavia. Besides volunteering, I love ghost hunting, road trips and riding our wave runner with my husband.
---
Mia McCammon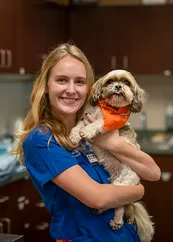 Hi my name is Mia McCammon. I'm currently enrolled at the University of Cincinnati Blue Ash to get my vet tech degree. I should be graduating in the spring of 2021! Pictured with me is my little dog Molly. She has inspired me to fulfill my career by showing so much unconditional love. I never knew I could love an animal so much. She has taught me so much and if it wasn't for her I would not be working in the veterinary medicine. I enjoy working here at Hillside Small Animal Hospital because I am getting great experience as an assistant. The employees and doctors treat me like family and I have enjoyed my time here so far and look forward to my future here at the clinic.
---
Rebecca Williams

Hi! My name is Rebecca Williams, I am a Veterinary Assistant. I am currently enrolled at Northern Kentucky University and will be graduating next year with my bachelor's degree in psychology and a minor in criminal justice. While finishing my associates degree in psychology, I was working at a boarding facility for dogs and cats when I realized how much I enjoyed working with animals. I decided once I graduate from Northern Kentucky University, I will attend the University of Cincinnati Blue Ash branch to receive my veterinary technician license! I am excited to learn more everyday as a veterinary assistant and soon become a Registered Vet Tech!
---
Pam Cluxton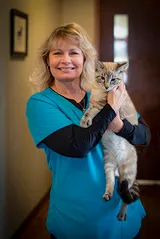 Hi! My name is Pam Cluxton and I'm a CSR at Hillside. I live in Williamsburg with my husband Jeff, our new puppy, Jade and kitten, Bo. I'm a local soccer official and enjoy working at Riverbend Music Center as well. Dr. Fouts and Hillside have provided wonderful care for our pets in the past and I am excited to be a part of an amazing team of caring individuals who work hard helping families and their pets in our community.
---
Julia Beasley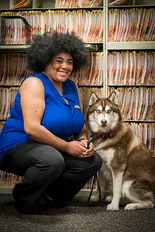 Hi! My name is Julia Beasley, I am the Assistant Manager at Hillside Small Animal Hospital. I grew up in Eastgate where I attended Glen Este High school and then transferred to Live Oaks Technical school for Animal Science and Management. I met my now husband there (we are high school sweethearts) We will have been married 2 years this Ocotber and we have two fur children, Whiskey Teton pictured with me and a tortoiseshell cat named Telulah Jean. In my free time you will probably find me on the back of a horse, my favorite place to be. I can also be found reading, painting or gardening.
---
Olivia Anderson
Hi ! My name is Olivia Anderson and i'm a veterinary assistant. Pictured with me is Deja , she came to me as a foster puppy at 8 weeks and ended up being a foster fail.. along with my 4 other dogs.I've always wanted to work in the animal world in some way growing up my house was always full of animals and for awhile we even fostered dogs. I currently have 4 dogs Deja, Maggie, Meatball and Lulu. 2 cats Nala and Fester and 2 hamsters Flash and Dumbo. I plan to hopefully grow here at Hillside and attend college to get my veterinary technician license. I am very grateful for the opportunity to work here!

---
Alesia McCabe
Hi, my name is Alesia McCabe. I am a veterinary Assistant here at Hillside Small Animal Hospital. I have always had a love of all things animal! I raise rabbits, and have a goat, pot-bellied pig, chickens, and 5 dogs! I enjoy spending my free time
with my husband, and all my critters! A good book is nice too!
---
Crystal Magness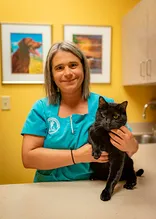 My name is Crystal Magness and I'm so happy to be a part of the CSR staff. I currently reside in Amelia with my 3 fur babies: my dogs Ozzy and Gemma and my cat, Castle (pictured with me). I am a mother to a wonderful son who attends West Clermont High School. I am excited to be a part of the Hillside team!
---
Clare Shepherd
Hello, my name is Clare Shepherd and I work as a Veterinary Assistant at Hillside Small Animal Hospital. I grew up with dogs and have had lots of other pets along the way, from rats and mice to frogs, hermit crabs, and much more. Animals have always been my passion! Currently, I just have one cat named Ponyo and she means the world to me. Other than hanging out with my cat, you can usually find me watching movies and crocheting. I have been learning so much since I began working at Hillside and I truly love the work I do here.

---
Jordyn Purtee
Hi! My name is Jordyn Purtee, I am a Veterinary Assistant at Hillside. I am currently enrolled at Sinclair Community College to get my vet tech degree. I love animals and have been surrounded by them my whole life. I have three dogs Khione, Rascal, and Icy. I also have one cat Noir. I am thankful to be given the opportunity to work with a great group of coworkers and to be able to further my knowledge of animals.