1. Payment is expected when services are rendered.
In order to focus on our patients' needs, customer service and minimizing costs, we do not bill.
2. We accept debit cards, credit cards (Visa, Mastercard, Discover, American Express) checks and cash.
All cards must be signed by the owner of the card.
3. CareCredit
CareCredit knows pets are family too. That's why Hillside Small Animal Hospital has partnered with them, offer veterinary financing to help keep your most cherished family members in top shape.
Whether you use it to cover annual expenses like preventative care check-ups or for unexpected costs like pet prescriptions, the CareCredit healthcare credit card makes it easy to give your pets the care they need, when they need it.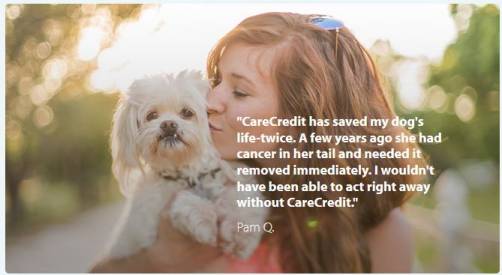 Here are just some of the many small and large animal veterinary procedures you can use your CareCredit healthcare credit card for:
Annual check-ups
Spay and neutering
Teeth cleaning
Parasites
Dermatology
Medication
Diagnostics
Emergency services
Care of chronic pet diseases and conditions
Vaccinations
Microchipping
Pet Food and Nutrition
Surgical Procedures

6. All Pet Card
Don't let cost concerns keep you from caring for your pet. With special financing for six months on purchases of $250 or more made with your All Pet Credit Card, you can get your pets the care they need - and pay over time. Prequalify now. It's easy, and there's no impact to your credit score to prequalify. Click here to see if you qualify:






5. Scratchpay
Scratchpay offers simple and affordable payment plans for veterinary bills. Checking your rate does not affect your credit, only takes a couple of minutes and can be done from your smartphone, tablet or computer.
For more information about Scratchpay and to check your rate, click here:
Insurance For Your Pets

Another popular option for your family and pet is insurance coverage. To learn more, please visit the following pet insurance websites . . .